Best Cloud Computing Course Institute in Rohini, Delhi
Join Cloud Computing Job oriented Course in Rohini at Coding Bytes Institute.
Coding Bytes is the Best Cloud Computing Course Institute in Rohini, Pitampura and nearby Location in Delhi. Join Cloud Computing Certification Course.
Want to learn Cloud Computing Course?, Share your details from Query form: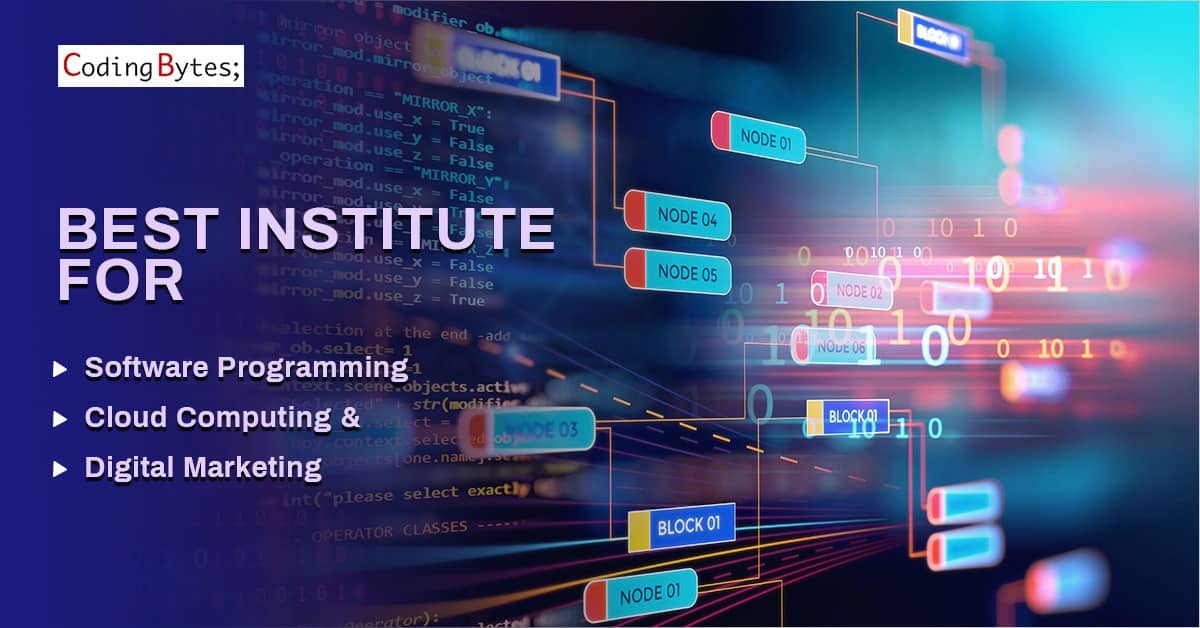 Cloud computing is the practice of utilizing a network that provides computer system resources. It is available on-demand without requiring the user to directly manage it. It delivers various computing services including databases, software storage, networking, analytics, and so on.
Features of cloud computing:
It is a scalable service
Here user only pays for various services
Cloud vendor manages the backend of all the apps facilitated by cloud
These days, the demand for cloud computing is gradually increasing among businesses. Naturally, IT companies are recruiting employees who have efficiency in cloud computing. Registering in the best cloud computing course in Rohini is a great choice these days for your career.
Here's what we promise you to deliver: 
One to one training
Course completion certificate
Complete assistance for placement
We will equip you with the advanced trends in cloud computing
We will train you with the latest tools
Expertly designed curriculum
Industry best practices are adopted to train the students.
Lifetime access to the course materials
We pay minute attention to every student
Online training facility – you can register with us when and where you want.
We conduct regular mock tests to ensure that you are prepared for the job market
As the best cloud computing training institute in Rohini, we offer a comprehensive course at a competitive rate. Contact us to know all about the pricing.
Here's the range of our course: 
Basic concept
Some models and services work in the backend to make cloud computing seamlessly accessible for the end-users. Here are some of the working models for cloud computing:
Service Models
Deployment models
Four types of cloud access include community, hybrid, private and public.
Public cloud
The public cloud offers access to the services and systems for the common public. A public cloud can be less secure because of its openness.
Private cloud
A private cloud allows access to the services and systems within a specific company. It is a safe choice due to its private nature.
Community cloud
A group of companies may access various systems and services through the Community Cloud.
Hybrid cloud
Here, critical activities are seamlessly carried out in the private cloud. On the other hand, less intrusive activities are carried out in the public cloud. It may seem to be complicated at first but not really so as it facilitates two distinct types of clouds.
Start Learning Job Oriented Courses




Advanced Diploma Certificate